Salvation Army Kroc Center in Omaha to begin FLOAT4LIFE Classes this summer!
Posted by Blake Collingsworth on 04/12/2012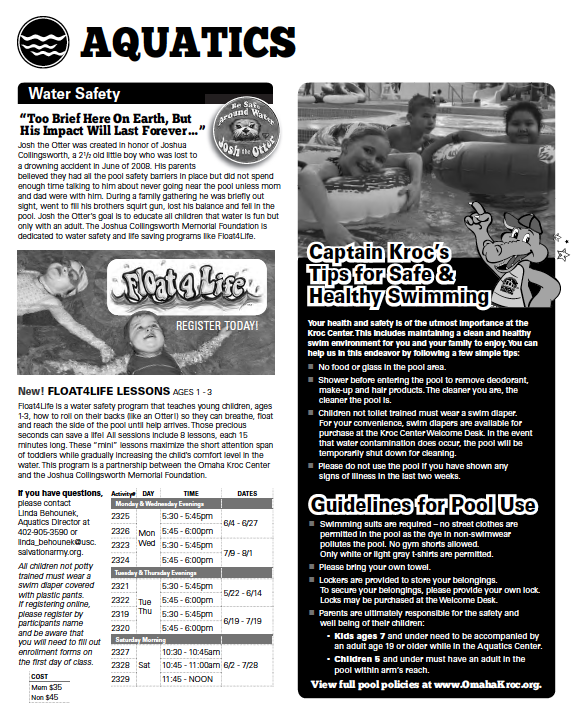 The partnership between the Joshua Collingsworth Memorial Foundation and the Omaha Salvation Army Kroc Center has culminated in bringing the Float4Life infant and toddler water training courses to the Kroc Center! JCMF provided free training for the Kroc Center's swim instructors to learn the valuable infant and toddler training program and bring it to the communities they serve.
To build the excitement for the courses coming this summer, JCMF volunteers held Josh the Otter readings at all of the Omaha Salvation Army sites. Josh the Otter was welcomed with smiling faces and hugs at each site as he helped educate the children about the importance of water safety. The Salvation Army Kroc Center serves a large minority population and the Float4Life program will help combat the staggering drowning statistics that occur amongst minorities.
The CDC reports the following drowning statistics for minorities in the United States:
*Between 2000 and 2007, the fatal unintentional drowning rate for African Americans across all ages was 1.3 times that of whites. For American Indians and Alaskan Natives, this rate was 1.7 times that of whites.
*Rates of fatal drowning are notably higher among these populations in certain age groups. The fatal drowning rate of African American children ages 5 to 14 is 3.1 times that of white children in the same age range. For American Indian and Alaskan Native children, the fatal drowning rate is 2.3 times higher than for white children.
*Factors such as the physical environment (e.g., access to swimming pools) and a combination of social and cultural issues (e.g., wanting to learn how to swim, and choosing recreational water-related activities) may contribute to the racial differences in drowning rates. Current rates are based on population, and not on participation. If rates could be determined by actual participation in water-related activities, disparity in minorities drowning rates compared to whites would be much greater.4
To learn more about the Salvation Army Kroc Center in Omaha, please visit: http://www.omahakroc.org/default.aspx